Lifting Equipment Inspection Organization
Accredited according to the EN ISO/IEC 17020:2012 standard under n°NAH-3-0041/2023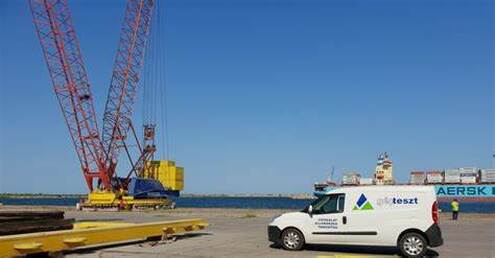 ​
​
The use of lifting equipment involves numerous risks, and according to certain regulations, these devices must be regularly inspected in order to ensure their safe use. Our company is a reliable partner for lifting equipment operators, offering professional lifting equipment inspection and testing, thereby ensuring the safe and uninterrupted operation of lifting equipment. With the help of our experienced professionals and equipment, we provide high-quality inspections and testing, enabling safe and cost-effective operation for you.
Periodic inspection
bridge cranes and straddle carriers, MSZ 9721-2:2020

mobil cranes, MSZ 9721-3:2020

powered industrial lift trucks, MSZ 9721-4:2020

hoist with interlocked fencing and hoists for lifting goods, persons and goods and persons (max. 0,15 m/s), MSZ 9721-5:2020

mobil elevating work platforms, MSZ 9721-8:2020
Pre-use inspection,
MSZ 6726 national standard series
Cranes

Stage technical lifting equipment

Lifting devices that can be used temporarily for personal lifting
​
Please don't hesitate to contact us if you have any questions about lifting equipment inspections and testing. Our expert team is ready to help ensure the safe and uninterrupted operation of your equipments.